I have read in Android Advices website last month (http://androidadvices.com/) , about an Android Gingerbread update from Samsung for it's Galaxy GT-S5830 phone. The phone was shipped with option upgradable to the latest Android Gingerbread OS v2.3 . I was eagerly waiting for the update as I observed that the current Android Froyo OS v2.2 has the following weakness. I was hoping Gingerbread will fix all this. :
a. Sometimes lagging in GUI response.
b. Seems to consume battery power a lot, especially when WIFI is switched on.
c. Sometimes screens goes blank and become unresponsive, and this forces me to do a soft or hard reboot. This usually happens when there is several third-party apps running at the same time.
d. Messaging (SMS) is becomes slow when there is a lot of SMS conversation threads, and sending SMS takes about 10 seconds sometimes. Also , there is a few seconds delay , when you press the home button on your phone to go to home screen from the Messaging (SMS) screen.
e. Taking screenshots by pressing the home + power button together , ONLY works on the home screen & does not work on other screen views.
I checked for any updates yesterday night (6/Oct/2011) using the Samsung Kies software. Ah at last ! The update is here. Without wasting time I proceeded with the update.
Model : Samsung GT-S5830
BEFORE UPDATE
Android version : 2.2.1
Kernel version : 2.6.32.9-perf
Build number : FROYO.DXKC1
AFTER UPDATE
Android version : 2.3.4
Kernel version : 2.6.35.7-perf-CL562111
Build number : GINGERBREAD.DXKPD
Note : The above OS info can be seen in "Settings" -> "About Phone" menu
Ah yes. My phone is now running Android Gingerbread !
I noticed the following improvements on my phone after the update:
a. Phone GUI is smoother , faster transition from menu to menu, or to home screen.
b. Messaging (SMS) is now fast, sending SMS is now fast.
c. So far the phone screen
does not
go blank and become unresponsive.Need to monitor on this.
d. I can now take screenshots on ANY screen view by pressing the home + power button together.
e. Battery power consumption has slight improvement (lasts longer), but still drains when using WIFI extensively switched on.
f. The screen fonts is now more pleasant & rounded. I am not sure what is the font type.
Check out below for the related links and the update screenshots using Samsung Kies :
STEP 1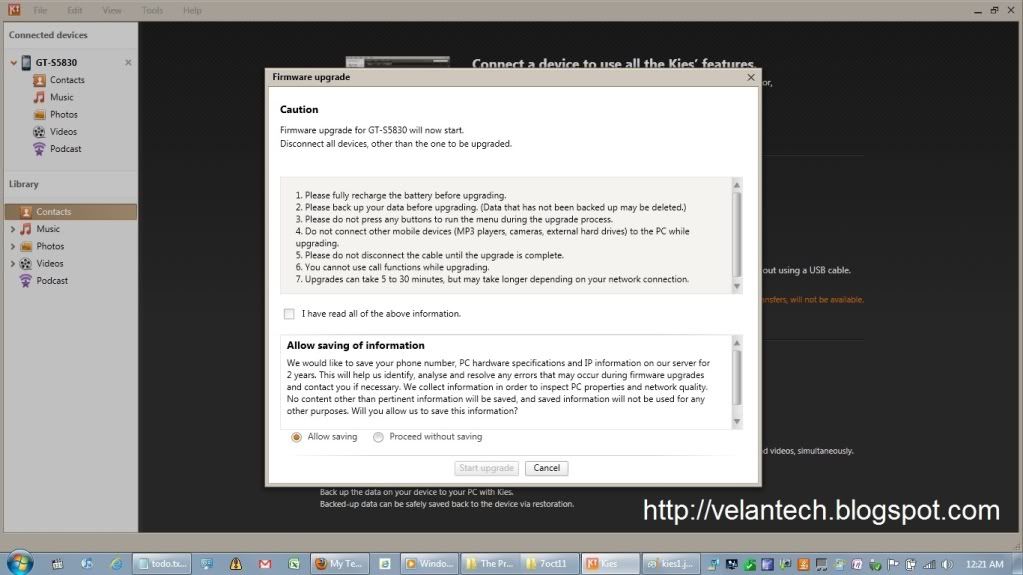 STEP 2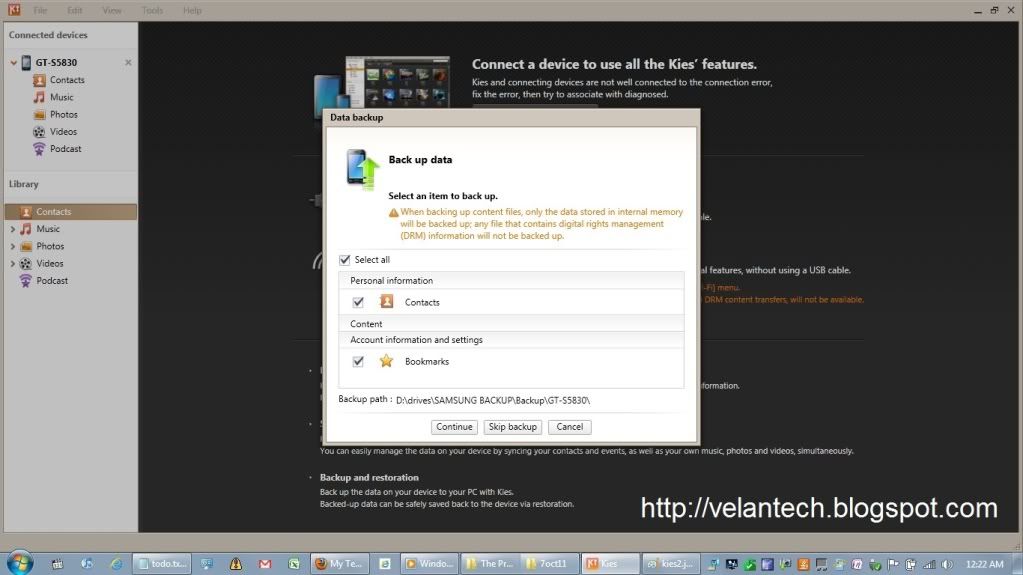 STEP 3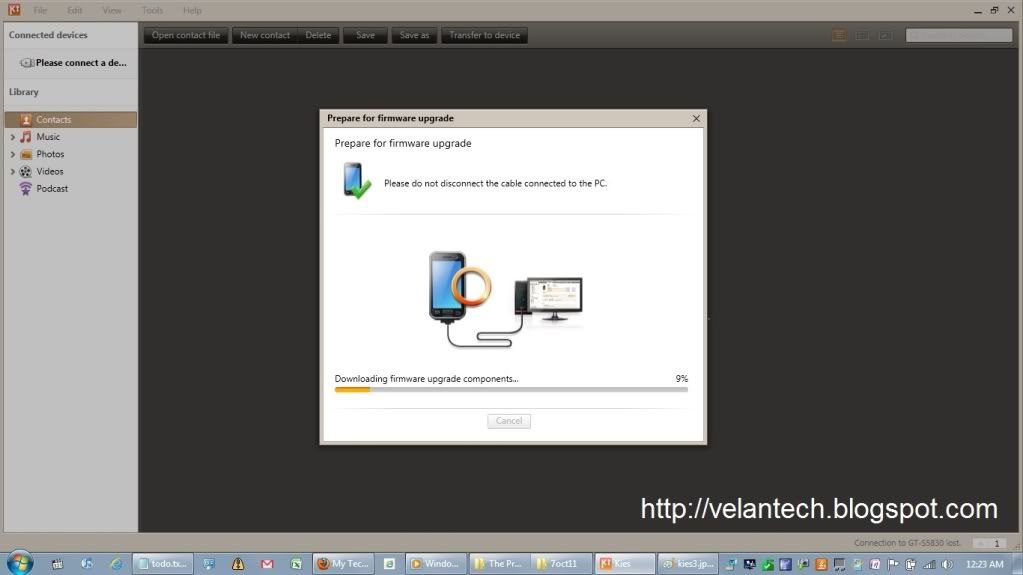 STEP 4
STEP 5
STEP 6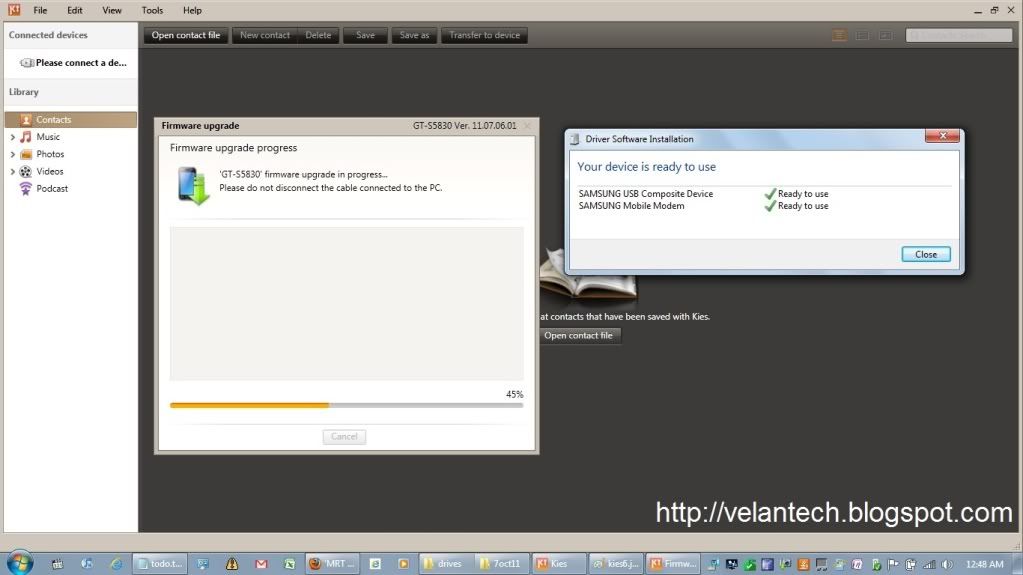 STEP 7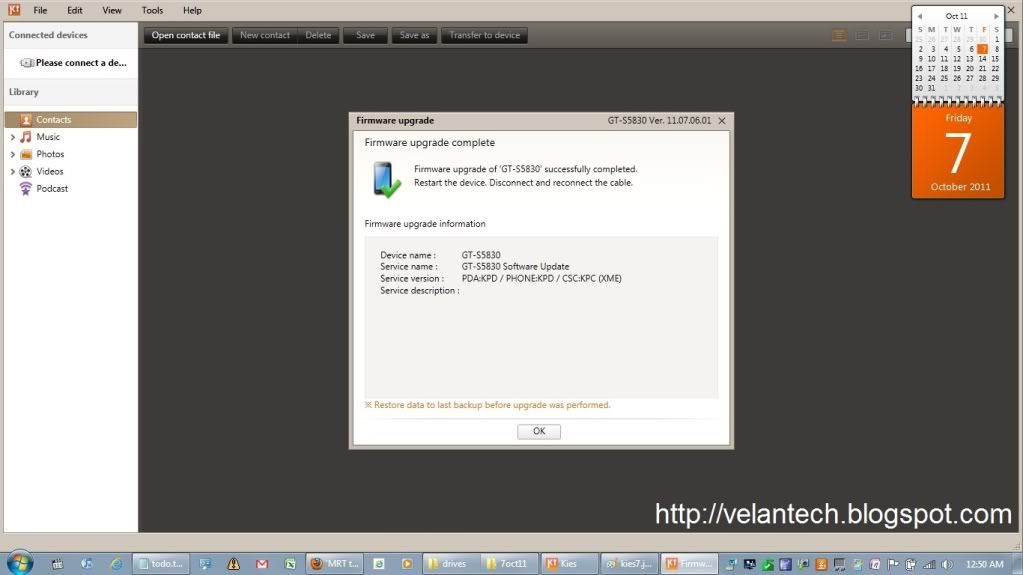 STEP 8